CoDiS TR
Electrical transient and Power quality
CoDiS TR
"CoDiS TR", "Electrical Transient Recorder" continuously acquires all the significant signals for behavior monitoring of the target object when transient in the electrical signals (generator currents) occurs.
Post process analysis tools are included as part of CoDiS DM diagnostic software package (Spectrum, Power analysis, Vibration response due to electrical faults).
CoDiS TR system provides fast electrical transient recording for generator (motor), block transformer, switchgear and grid as well as permanent electrical quantities vector monitoring (PQ). The system includes recorded transient waveforms analysis toolbox.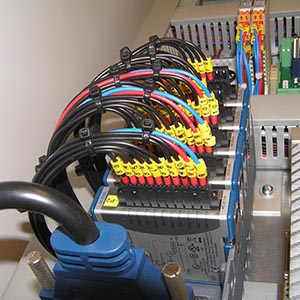 codis tr tasks

Performs real time analysis of trigger conditions

Triggers event recording and notification

Sends signal waveforms to Server for Power Quality analysis

Receives the orders from the server (user created event recording, configuration and setup etc.)

Time synchronization
Standard data analysis tools

Electrical Transient recording with vibration signals in addition

Power quality

Generator load angle

Torsion magnetic field stiffness
Standard configuration

16 AI ch

32 AI ch